Location
The TransAmerica pyramid is full city block situated at the entry of financial district of san Francisco. The center is surrounded by shopping malls, galleries, restaurants, and world class hotels. The center neighbors colorful hoods like china town, north beach, and Jackson square. It offers access to bus stations, airports, BART, and ferries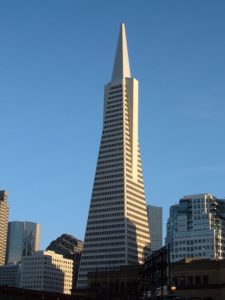 What makes up the center
The pyramid has two main office buildings. One which is a symbol of SF and has a class A type of offices. The other one is the 505 Sansome building. Transamerica pyramid is also home to redwood park, which has fountains, and redwood trees.
The pyramid is restricted to public due to security reasons.
When was the pyramid built?
The construction works started in 1969. The first tenants to occupy an office at the pyramid offices was in 1972.
The architectural details
Up to date, the building still remains the tallest in san Francisco. The building has 48 floors which are made of steel, glass, and concrete. The top is capped with an attractive aluminum spire which is about 65 meters. As a matter of fact, the pyramid sits on 500,000 sq. feet. Its unique shape permits for varying floor plates. For instance, the sixth floor occupies 22,226 sq. feet while the 48th floor occupies only 2,531 sq. feet only. The foundation rest on heavy steels and concrete blocks and it is about 15 meters deep. In case of a tremor, the building is designed to move with the tremor. The building boasts more than 3,500 windows which can be cleaned from inside. Believe it or not, the building generates its own electricity. Surely, with no doubt, the pyramid is a marvel of engineering.
The exterior maintenance
No building is immune from getting dirty from different sources e. g from the air itself or from other pollutant. But the pyramid is different because the rate at which it gets dirty is drastically reduced by its shape. Interestingly, the building exterior quarts undergoes a brightening process every ten years which involves a chemical wash and then a power wash.
Find more information about San Francisco City like the beaches at San Francisco and plan your trip to that City.